Pangong Lake or Pangong Tso – Most popular tourist destination of Ladakh, Kashmir, India
The state of Jammu Kashmir in India has three distinct tourism zones namely Jammu region, Kashmir Valley region around Srinagar and Ladakh region.
In Jammu region, tourism is mainly pilgrimage and centered on Vaishno devi Temple at Katra. Tourists are mainly domestic. Foreign tourists in Jammu region are mainly transit tourist to Kashmir Valley region or Ladakh region.
In Kashmir Valley region, tourists mainly visit locations like Srinagar, Dal lake, Sonamarg, Gulmarg and Pahalgam. Kashmir Valley region is visited by both domestic and foreign tourists though majority of the tourists are domestic.
In Ladakh region foreign tourists outnumber domestic tourists. Tourists come here for scenic beauty, visiting the monasteries, trekking, to experience local culture and tradition, wildlife photography, mountain biking, river rafting, etc. Tourists mainly visit Leh, Nubra Valley, Pangong Lake, Tso-Moriri.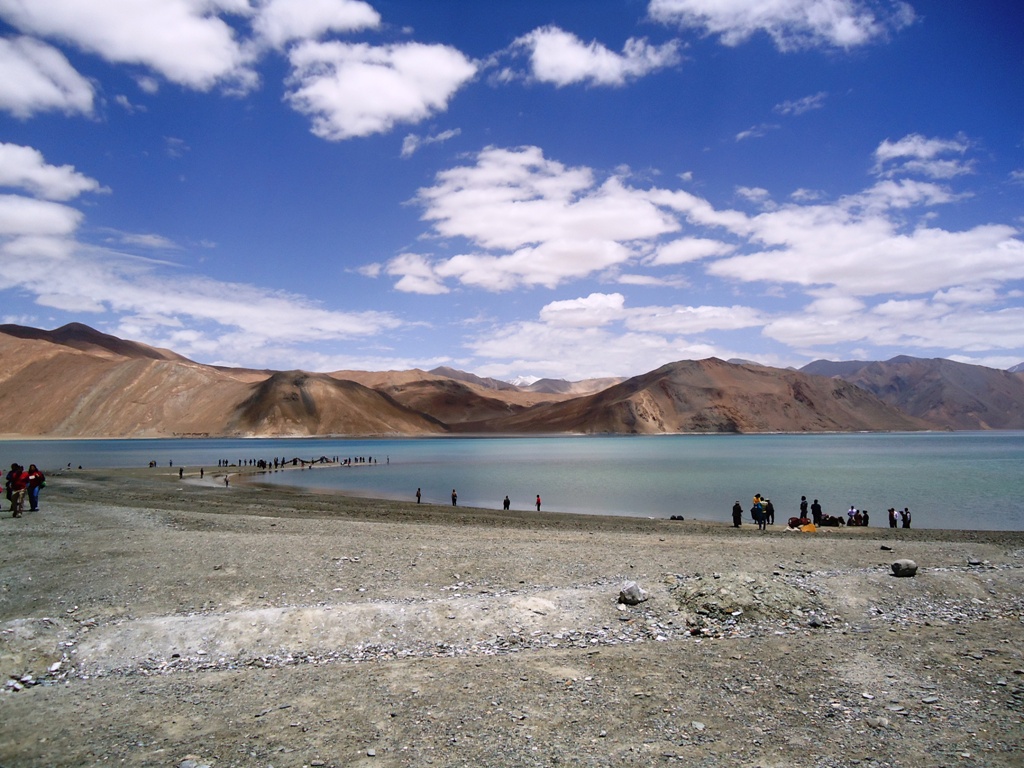 Pangaong Lake or Pangong Tso is one of the most popular tourist attractions of Ladakh, Kashmir, India. Pangong Lake is also called Pangong Tso. In Ladakh, you will come accorss the words "Tso" and "La" many times. These are tibetian words for "Lake" and "Mountain Pass". Then Pangong Tso is Pangong Lake. Similarly, Tso Moriri is Lake Moriri, Tso Kar is Lake Kar, Mirpal Tso is Mirpal Lake, Chagar Tso is Chagar Lake and so on.
Situated at an altitude of 14,270 feet or 4,350 meter is the highest brackish water (salt-water) lake in this region. Pangong Lake is 134 km long and 60 percent of the lake is in Tibet and rest 40 percent is in India. In winter the entire lake freezes. The color of the water is blue, deep blue. It is so blue that it seems someone has poured ink in its water. You can watch Black Necked Crane and many other migratory birds in Pangong Lake (Tso).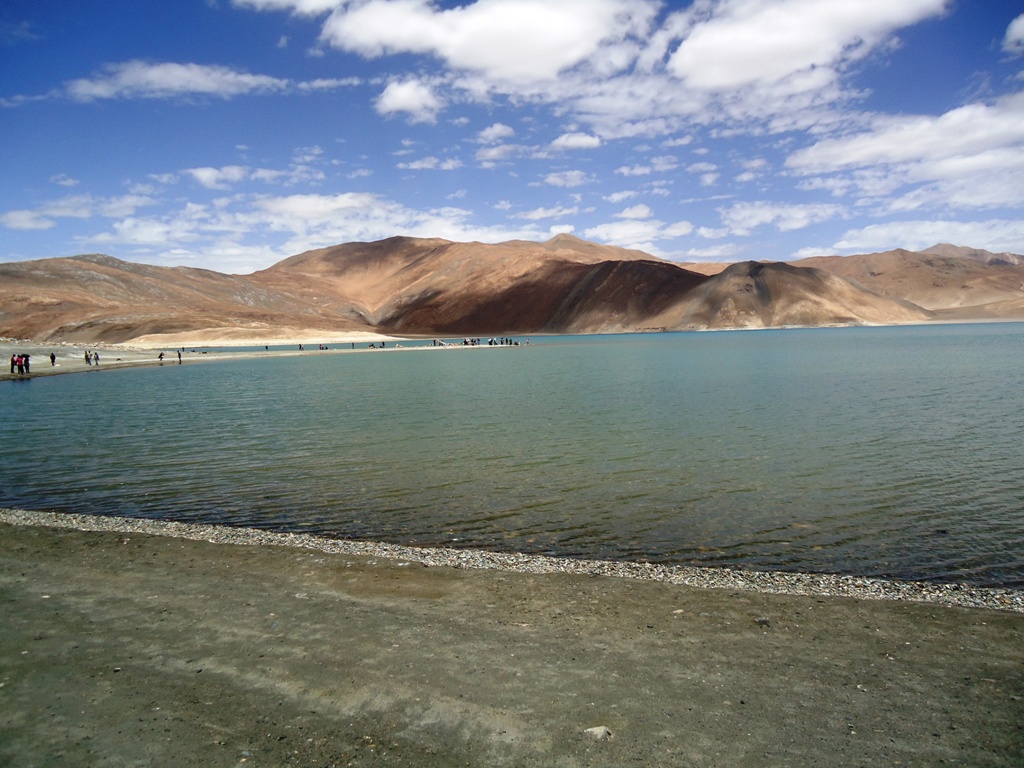 Previously, for all tourists whether foreign or Indian required an Inner Line Permit for going to Pangong Tso (Lake), Nubra Valley, Tso-Miriri, Turtuk, Drokpa, etc. from Leh. This Inner Line Permit for tourist was issued from the office of the District Magistrate at Leh. But, now-a-days, Inner Line Permit is no more required for Indian tourists but they have to show their Voter Identity Card only for visiting the these places. Permit is not required anymore for Indian tourists (with effect from May 1, 2014), though foreign tourists still require the permit.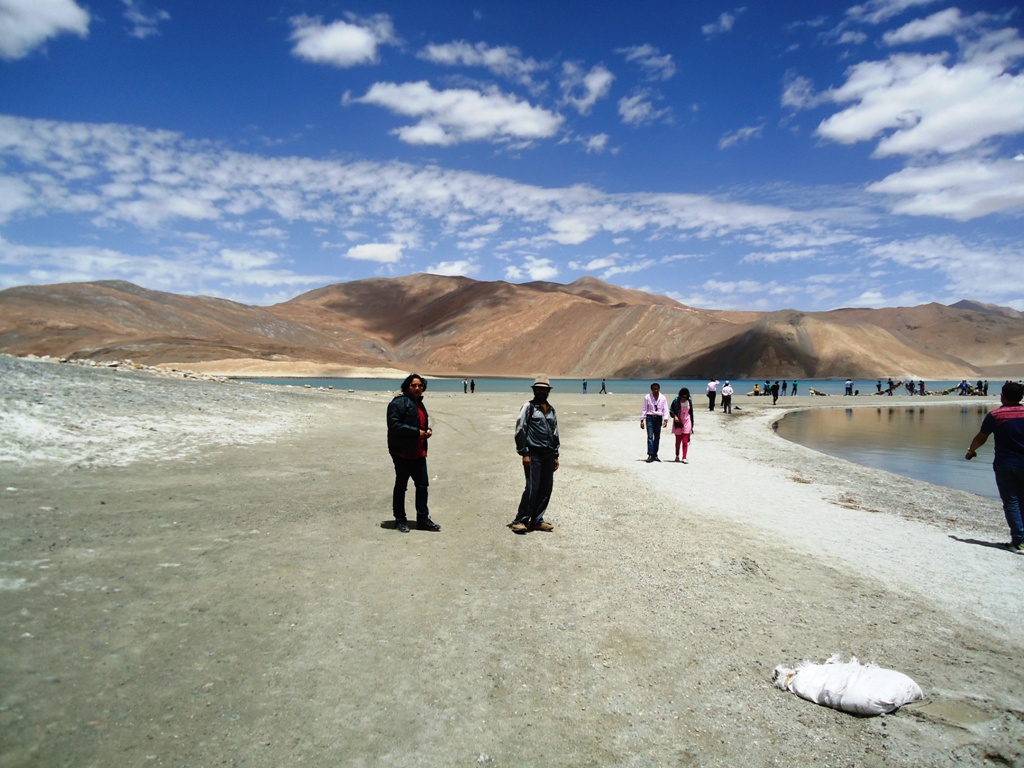 It takes roughly five hours to reach Pangong Lake by car from Leh, the district town of the Ladakh district in Jammu Kashmir. You have to cross Changla La or Changla Pass at an altitude of 5360 meter on your way to Pangong Lake. This place, being at a very high altitude is also very cold so you must take enough warm clothes with you like Windproof Jacket, Socks, Gloves, etc.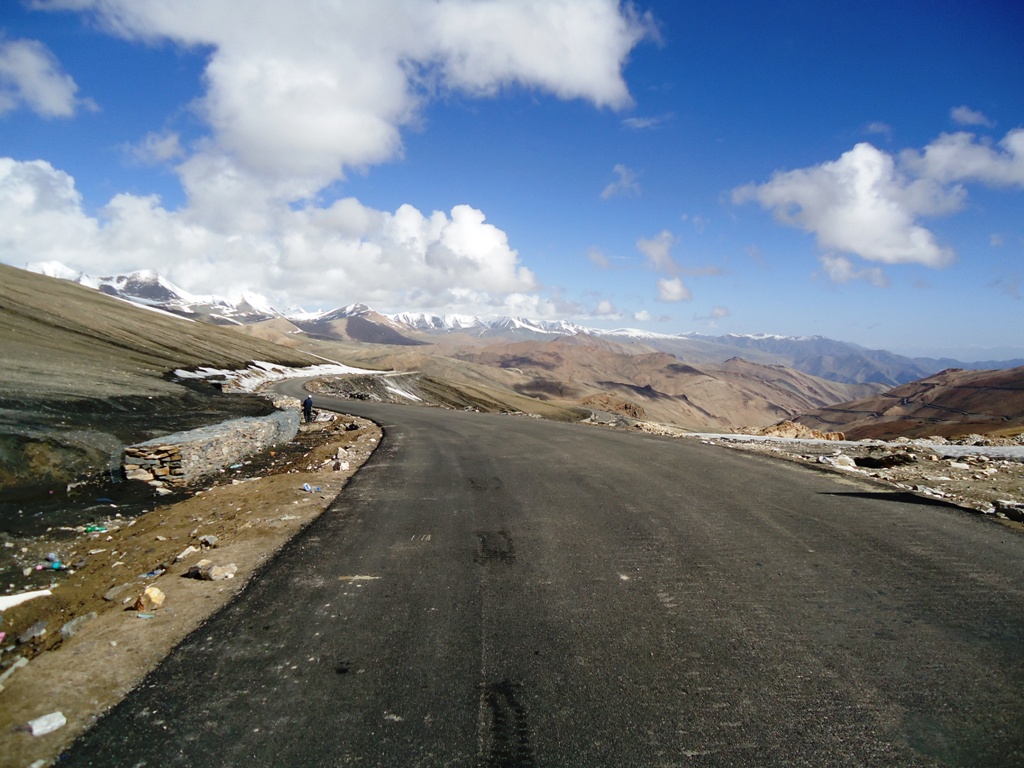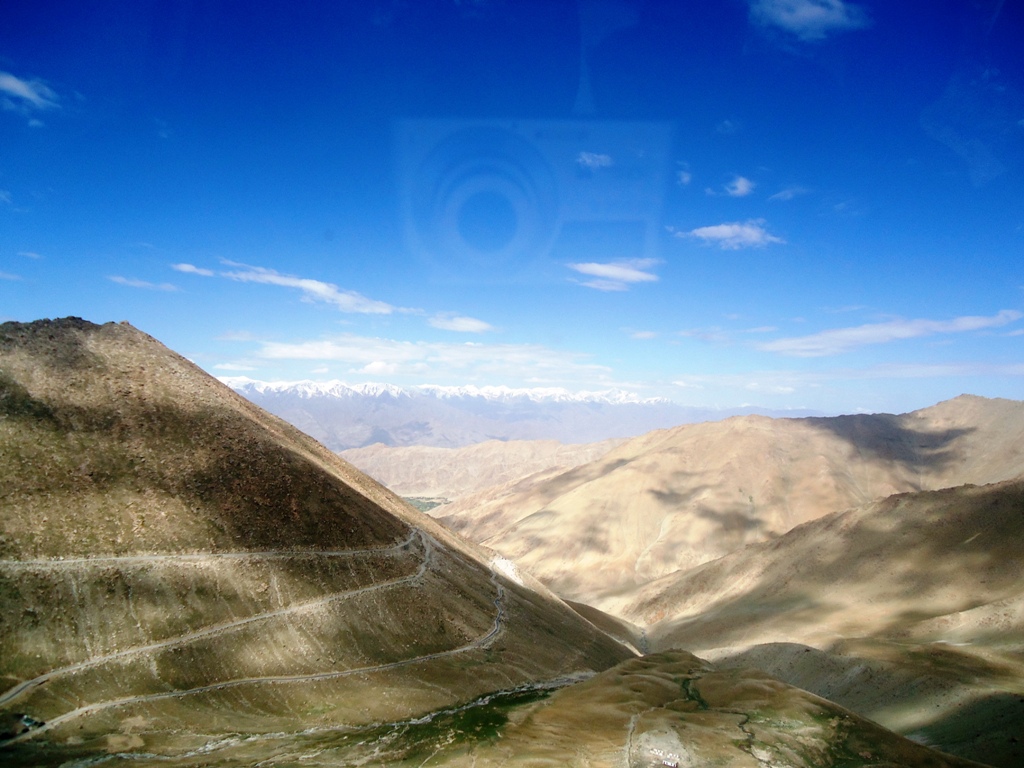 Accommodation at Pangong Lake
If you want to spend a night beside Pangong Lake then there are sufficient, if not many, accommodation available there. I like to mention a few of them below.
Red Star Water Land Tent Resort – Tariff for two persons including dinner and breakfast is Rupees 4300 to Rupees 4500 (as of May, 2015).
Summer Paradise Camp – For two persons tariff is rupees 2400 including food.(rate in May 2015)
You can also spend your night in a tent just beside the Pangong Lake. Rent for tent is rupees 2500 per day per person including fooding (as of May 2015). Though it is a bit costly but undoubtedly you will have a lifetime experience.
The famous Bollywood film 3 Idiots starring Amir Khan made Pangong Lake most popular tourist attraction of Ladakh, Kashmir, India.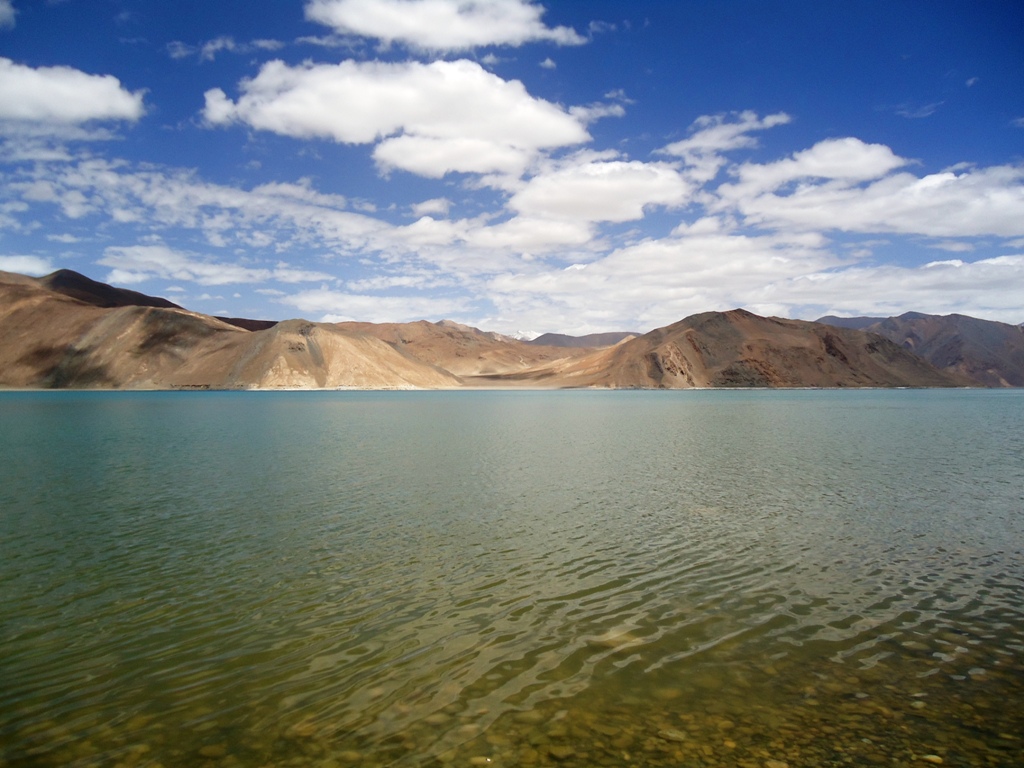 Tips for Tourists at Pangong Lake:
Best months to visit Ladakh are July and August because these two months are summer in Ladakh. In this time you will experience the mesmerizing blue water of Pangong Tso. In winter, entire Pangong Tso freezes and you can walk over the lake. 
Pangong Lake as well as entire Ladakh region is very windy. You may also face rainfall or snowfall. So, you must carry good quality wind cheater or wind proof jacket as well as warm clothes with you. In winter temperature may often goes down to minus 20 to 25 degree Celsius.
Pangong Lake as well as entire Ladakh is a paradise for photographers. So, do not forget your camera, battery, power bank, tripod, tele-lense or zoom-lenses as well as wide-lenses. For photographing a Black Necked Crane at Pangong Lake you need a zoom lense.
You must have enough battery backup for your mobile, tablet, digital camera and video camera.
If it is too cold try to keep your battery close to your body or inside the pocket of your jacket otherwise they may discharge quickly in too cold temperature.
Drink Mineral water at Pangong Lake and elsewhere in Ladakh otherwise you may suffer from Hill Diarrhea.
Pangong Lake as well as entire Ladakh is situated at high altitude. Oxygen in air is much less because of high altitude and very low number of trees. So, Oxygen level in blood decreases and you may suffer from High-Altitude-Sickness. Gradually, your body will adjust itself to the situation and there will be no more problem. Everybody does not suffer from High-Altitude-Sickness but many tourist does. If you arrive at Leh by car from Srinagar then stay at Leh town for minimum one day and walk around the nearby Leh market in leisurely steps. If you arrive at Leh by car from Manali and you are prone to High-Altitude-Sickness then probably you already suffered from it on your way. If you come to Leh by air then make yourself confined to Leh town for at least two days to acclimatize yourself. Do not run or jump unnecessarily. Drink plenty of Water. Drinking mild hot water works best in breathing trouble. If you face problem due to high blood pressure then immediately consult a physician at Leh.
Always, keep some reserve days when planning your tour for Ladakh because everything may not go according to your plan. There may land-slide due to rain or road blockage due to heavy snow fall so your journey to Pangong Lake or Nubra Vallery may be deferred. May be some member of your team suffer from acute high-altitude sickness which may postpone the number days being confined to hotel. Your flight may be cancelled or delayed at Leh Airport due to bad weather. So, you must keep some additional free days to accommodate these unwanted incidents.